About Us
FillerBoy - your reliable partner in quality and affordability. As a leading industrial minerals supplier, we offer premium materials and exceptional customer service. Trust us for top-notch products and a commitment to excellence.
Who Are We?
Premium Quality & consistency Are Our Ultimate Goal!
The FillerBoy Pvt. Ltd is one of the leading companies when it comes to supplying industrial minerals. Our team is immensely dedicated to providing all the customer's industry-standard materials at an extremely competitive price point.

Our company initiated the journey in 2004. We are mainly focusing on B2B chain delivering all types of minerals of all grades found and mined all over the state of Rajasthan, Gujarat, Madhya Pradesh, and Uttarakhand. We are aiming to be the pioneer of the mineral industry. Our headquarter is at Udaipur, Rajasthan is one of the most researched cities in India in terms of mining. We are arguably the best mineral supplier in Rajasthan.

As a trusted partner, we provide guidance and support in helping our customers utilize our products optimally. With our robust logistics networks and strategic partnerships, we guarantee timely delivery of our minerals, facilitating uninterrupted operations for our clientele.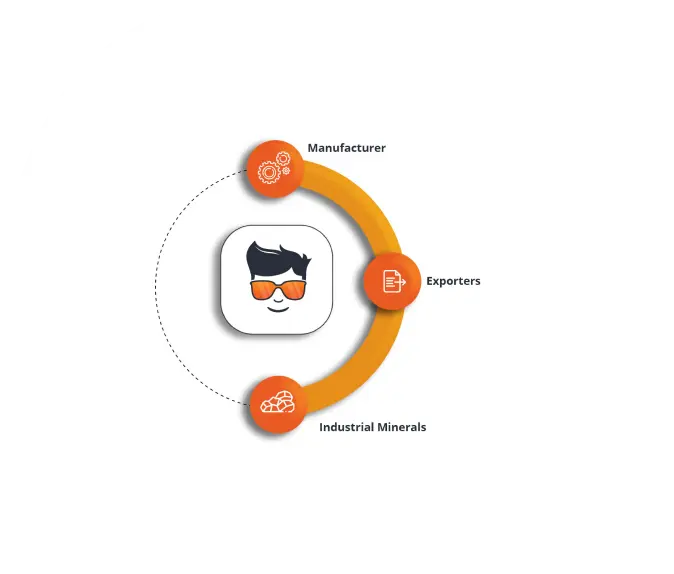 Our Mission & Vision
To be a world-class leader in the mineral-based industry by sustainably producing high-quality minerals that drive innovation and progress, while exceeding customer expectations.
Our mission is to maximize resource and asset utility, driving innovation and industry excellence. We are committed to fostering continuous improvement and sustainability, partnering for progress, and enhancing the well-being of individuals and communities. Through responsible sourcing and environmental stewardship, we empower communities and lead the way in technological advancements for a sustainable future.
WHY CHOOSE US?

Upgraded Technology
Our main goal is consistent technology upgrades. We meticulously focus on machinery for full particle recovery and reuse, with our system and extensive database managed by Artificial Intelligence.

Hassle-free Service
The highlight of our service is its simplicity. Choose us without hesitation. We offer transparency with no hidden charges, easy returns, cancellation policies, live tracking, and timely delivery at FillerBoy.

Mineral Portfolio
In our expansive B2B chain, we produce a diverse array of customized products including minerals like dolomite, calcite, china clay, soapstone, feldspar, quartz, calcined clay, manganese, diatomite and hydrated lime.

Incomparable Quality
We stringently follow product quality measures. Our uncompromising, industry-leading quality has made us Rajasthan's top mineral supplier, consistently maintaining reliability and affordability.

Free Consultation
We also offer free consultations on finished goods manufacturing to clarify any product-related confusion. Our experienced professionals are available to help you understand our products better.

Skilled Work Force
Our proficient management efficiently execute the entire mineral extraction process. Adhering to strict working guidelines significantly increases our productivity in both quality and quantity.

Effortless Accounting
We provide comprehensive provisions for recording, classifying, and accurately reporting our business transactions. Customers can access the simplest transparent accounting on our platforms.

Perfection Guaranteed
Fillerboy ensures excellence in every grain, setting new standards. As India's leading mineral supplier, our reputation is built on dedication to unparalleled quality and industry innovation.